Aerial Drone Inspection
Brisbane, Gold Coast, and Northern N.S.W
1300 910 917
Call today for a free drone inspection quote.
Drone Inspection – Get The Whole Picture, We use a state of the art 4K High Definition drone as an Extra to inspect building rooftops normally not accessible by ladders. We use high-quality images and video that is assessed by a licensed builder and Timber Pest Inspector to ensure all areas are covered. If the roof top is not checked it can have defects that include,
▶ Cracked Tiles.
▶ Inadequate Pointing or Incorrect Fitment Between Pitching.
▶ Rust, Corrosion, De-lamination, Warping, Holes in Roofing.
▶ Damaged Solar.
▶ Timber Decay.
▶ Roofing Screw Condition.
▶ Incorrect Fitment Between Pitching.
▶ Valley and Guttering Inspections.
▶ Penetrations and Flashing.
▶ Air conditioning Units.
In addition to Pre Purchase inspections,
the Drone can be used for Pest Identification and Commercial Bird Related Issues.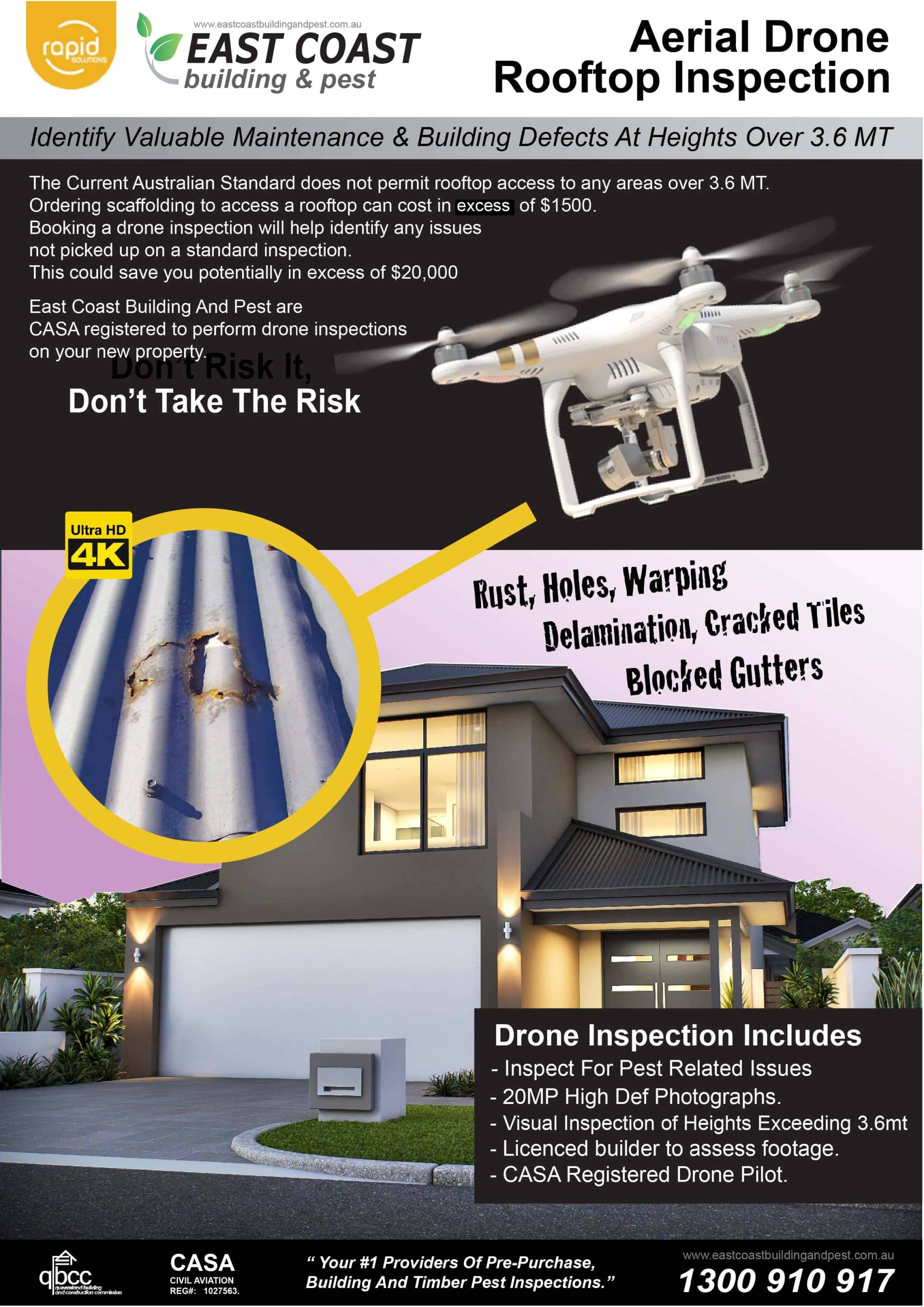 East Coast Have You Covered. You must be CASA (Civil Aviation Saftey Authority) registered and carry adequate licenses to inspect Residential and Commercial roofing and provide Building Inspection reports.
East Coast Building And Pest are CASA Registered, Provide Licensed Builders, Pest Inspectors and are Insured.
Combine with a Pre-Purchase Building And Pest Inspection And Save.