Termite Inspection & Control Services Tamborine Mountain
Termite inspection and control specialists servicing the Scenic rim and Tamborine Mountain
Phone: 1300 910 917
Termite Management Services Tamborine Mountain
   
   
Detailed List Of Termite Management Services
Termite Inspection Tamborine Mountain
A termite inspection is a step by step process carried out by a professional in and around your home and yard to identify the presence of termites, Conditions that may attract termites such as moisture, poor ventilation, and building design. An experienced inspector must be licensed, Insured and also carry tools that can differentiate between moisture and termite activity. "A visual inspection" sometimes may not be enough. Our Tamborine Mountain Termite Inspectors carry additional tools such as the Termatrac T3i termite radar and thermal imaging devices. The use of these additional tools is included in the price no extra charge. On Tamborine Mountain or as some say Mount Tamborine, homeowners should have a termite inspection carried out every 12 months as a bare minimum. Termite Inspections cover all accessible areas including the roof void, Subfloor, Internal areas and external areas. Our Termite inspections include a detailed discussion on any issues identified followed by a photographic report provided on the same day of the inspection.
Termite Inspections Include
▶ Inspecting all areas of the property including roof void and subfloor
▶ Termatrac T3i Termite Radar
▶ Thermal Camera
▶ Tapping and sounding timbers
▶ Moisture detection
▶ Presence of mold and poor ventilation
▶ Timber rot
▶ A list of areas conducive to termite attack
▶ A digital photographic report produced same day
Termite Control and Termite Treatments on Tamborine Mountain
If you have identified termite activity within your property the first step is to have it inspected by a professional with the right tools. Having the area of termite infestation mapped out correctly will ensure a termite treatment is effective. Termites are masters of concealment and if some areas are not treated or missed you risk ongoing problems. How do we treat termites? It varies on the species, the building design and if we can find the nest. Priority must be made to eliminate the nest and protect the property from further attack. Termite control methods can include above ground baiting or apply an APVMA approved termite control chemicals into the workings such as foam dust or liquid or both. If for example a nest could not be found baiting may be better suited. Once the termite treatment is successful and the property is free from termite activity, termite protection should be installed. Stage 1 control, Stage 2 protection.
Termite Treatments Provided By Our Firm
▶ Above ground baiting programs
▶ Dusting termites using Termidor dust
▶ Foaming Termite activity and workings
▶ Removal of termite nests
▶ Identifying entry points and applying physical protection
▶ Drilling trees and applying a liquid chemical to treat termite nests
▶ A digital photographic report produced same day
Termite Protection Tamborine Mountain
Protecting Mount Tamborine properties against termites falls into two categories. Methods of treatment differ on whether the house is new and being constructed or if the property is existing. If an existing structure requires termite protection there are many forms of termite management systems and some suit different styles of homes better than others. These include Termite baiting systems, Termite chemical barriers and Physical termite protection systems. Termite baiting systems involve placing a series of baits or lures around the structure and inspecting these stations every 6-8 weeks for generic systems or for the latest Baiting systems only 4 inspections yearly with the integrated baiting rods. On the generic systems once termites have been identified in the baiting system they are fed a bait matrix containing an active ingredient that will obtain colony elimination. Other forms of termite protection suited to some house on Tamborine mountain is forms of chemical barrier or chemical treated zone. A Termite barrier is installed around the structure by treating the soil area where termites can entry such as the cold joints or areas where the brickwork meets the footing. Termite barriers provide a long-term protection with minimal maintenance. Chemicals vary for treated zones and you should do your research, we only use quality products but unfortunately there is many cheaper alternatives out there that are not as effective. We prefer a long-term solution using a non-repellant chemicals such as the market leader Termidor, There are other cheaper forms of chemicals that act as a repellant, Repellants can be mixed at different rates and will last depending on the mix rate ie 1 – 10 years.
Termite Protection Provided By Our Firm
▶ Chemical barriers/ Treated zones
▶ Accredited installers of Termidor
▶ Reticulation systems
▶ Termite baiting and monitoring systems
▶ Maintaining baiting system programs
▶ Physical termite protection
Pre Construction Termite Protection on Tamborine mountain
New requirements ensure that new houses are protected against concealed or undetected termite entry. To prevent concealed termite entry there are a few styles of products or applications that can be applied and are generally classed as physical termite barriers. A physical termite barrier could be a slab that sits on the ground making termites visible having to cross the edge of the slab and specific membranes that are wrapped around a pipe going through the slab to prevent termites squeezing through. Other forms include stainless steel mesh, Chemical treated membranes and ant caps. With all these forms of physical termite barriers, the homeowner must maintain annual termite inspections to detect termites crossing the physical barrier. They are only designed to prevent undetected entry, however they will not prevent termites accessing over the barrier so the Australian standard is to inspect the home every 12 months as a minimum. East Coast Building and Pest can inspect all systems.
Pre-construction termite protection provided by our firm
▶ Accredited installers of Kordon physical termite protection
▶ Accredited installers of Cammileri and XTERM reticulation systems
▶ Accredited installers of TermSeal
▶ Accredited installers of Greenzone
Thermal Termite Inspection And Termite Radar
Our Scenic rim termite specialists carry all the latest tools to help them identify termite activity and moisture within the structure. Some companies offer a cheap visual inspection with the use of this equipment as an extra. These tools form a vital part of the termite inspection and should not be left out. Traditional equipment that is still used today identifies the presence of moisture behind walls, showers, and wet areas. With the additional tool such as a Termatrac T3i termite radar, we can differentiate between moisture and movement without having to rip apart the wall allowing an effective non-invasive treatment. Tools such as a thermal device can assist in identifying termite nests, bivouacs and hot spots within a property.
▶ Accredited operators of Termatrac T3i termite radar
How can I safeguard my home against termites in the Scenic rim?
Termites are a huge problem facing the Scenic rim homeowners annually. The reason being the Scenic rim is located in a very high risk for termite activity and also termites build subterranean nests making it difficult for the homeowner to find the problem. A termite nest can survive for 30 years creating sub nests. Applying DIY spot termite treatments never ensures the nest is eradicated.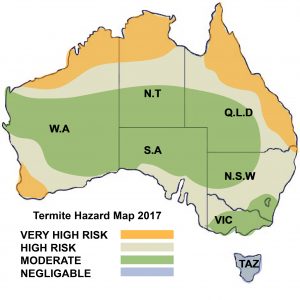 Termites travel on an average 20cm below the soil to find a food source. Once they have located their food source of moisture and timber, whether it be hardwood or pine they can leave a trail of destruction that can leave the homeowner out of pocket tens of thousands of dollars or more.
To safeguard your home against termites you should have adequate termite protection installed and maintain annual or even 6 monthly termite inspections. Issues occur most of the time when the homeowner does not have any form of termite protection and has not had a termite inspection in years.
East Coast Building And Pest are not just a Pest Control Company but professional timber pest specialists who know their stuff when it comes to termites. We provide a range of termite management solutions in the Scenic rim and surrounding areas that include. Termite inspections, Termite control, Termite protection, Termite treatments, Termite barriers, Pre-construction termite protection and much more. If you have any questions feel free to call us today and ask to speak with your local technician.
Have you found termites? What should you do now?
Firstly if you have found suspected termite issues do not disturb the area, A termite inspection by our local Scenic rim timber pest inspector is the first step to identify using high tech tools exactly where the termite activity is and how it got into the house and the best method of treatment. A termite inspection by our professional is also essential in ensuring you receive the right advice so they are kept out long term. There are Australian Standards that all companies must follow for both inspection and treatment, East Coast Building And Pest are licensed and insured and our staff have undergone further training to ensure you receive the right advice. Feel free to call us for any further advice or to speak with your local inspector, we are more than happy to answer your questions today.