Termite Management
Brisbane, Gold Coast, and Northern N.S.W
1300 910 917

Call us now for a Free Termite Consultation
Termite Management Options
Our staff are Licensed, Trained and Insured timber pest technicians. We provide termite management that is above and beyond all Australian Standards.
   
   
We provide a wide range of solutions for termite control.
It is essential that any home facing potential or suspected termite issues have an inspection. A Termite inspection is essential in ensuring the property is free from termites or in the case that the homeowner has found termites, they are located adequately using the right equipment.
Thus, Knowing exactly where the termites are or potentially may go, ensures we can provide an effective treatment. Termites affect 1 in 4 homes, it's important to get your annual Termite Inspection every 12 months.
Termite Inspections Include
▶ Termatrac T3i Termite Radar
▶ Free Thermal Imaging
▶ Termite Radar Termatrac T3i
▶ Sounding of timbers
▶ Moisture detection
▶ Also, Mould detection
▶ Timber decay
▶ Identification of areas conducive to termite attack
▶ Also, Digital photographic report produced same day
---
Termite Control
We provide effective termite control measures. Our technicians are accredited with the latest products ensuring you get the right advice and results. Treating termites is a skilled task, it involves more than chemical alone. Thus, To perform a successful termite treatment you must have a knowledge of Termite behavior and ecology.
Termite Treatments Include
▶ Above ground live baiting
▶ Dusting workings
▶ Foaming wall cavities
▶ Treating nests
▶ Also, Forming protection zones around the house and under the slab
---
Termite Protection
As an accredited company. This means we have undergone further training to be able to install adequate systems around your property to protect against termites. Thus, includes termite barriers, baiting systems, post, and pre construction management systems. Also, The chemicals and protection available on today's market are safe and effective. Thus, Some methods are Non-Toxic. Also, many of the systems available will allow you to undertake insurance against termites.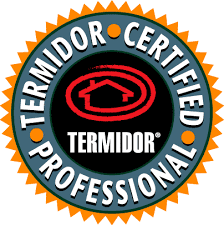 Call us today for a free consultation
1300 910 917
Accredited Installers Of The Following Products And Systems.